If you intend to feel good on Friday, pick a goal below, post it in the comments, follow through, and feel good.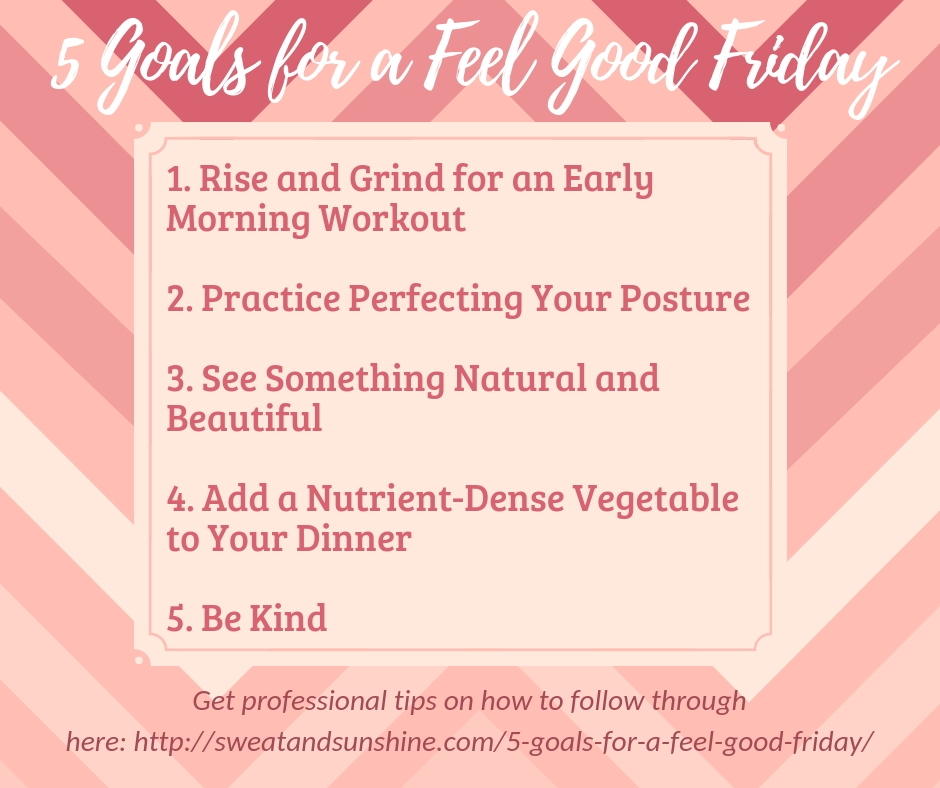 Rise and Grind for an Early Morning Workout
Even if you're not a morning person now, with some strategic preparation you may just learn to love it. There's a unique beauty and energy to the world when day is breaking that you must experience. To set yourself up for a successful early morning workout drink plenty of water the day before, go to bed early to ensure you're well rested, and keep it simple. Below are two routines, perfect for a quick morning workout.
Practice Perfecting Your Posture
When it comes to posture, practice really does make perfect. It also creates proper alignment for optimal breathing. Place a vibrant, eye catching, or out of place item on your desk as a reminder at work. Try a physio ball as a chair or add a Yoga block behind you when seated. Pro tip: The goal is to be mindful, not to torture yourself.
See Something Natural and Beautiful
There is a reason people travel thousands of miles to see the natural wonders of the world. From the Grand Canyon to a simple tree in our favorite park, nature inspires, distracts us from the grind, and reminds us we are alive. Pro tip: Keep it simple. No need to plan that trip of a lifetime for Friday. Just find a quite spot where you see something beautiful and enjoy it.
Add a Nutrient-Dense Vegetable to Your Dinner
Treat yourself to something new and nutrient dense. Purple asparagus, Broccoleaf, and seaweed are excellent options for color, texture, and taste. Pro tip: You don't have to try a whole new recipe, just add your choice to one of your old favorites to spice things up.
Be Kind
Being kind is certainly the easiest of our 5 goals to accomplish and will have the greatest impact. Not only will someone benefit from your act, you'll feel all warm and fuzzy too. And it likely won't stop there. Good things like kindness have a way of spreading like wild fire. Open the door for that person not expecting it. Anticipate someone's needs. Share a compliment that's on your mind. It doesn't take much. Pro tip: Have fun.