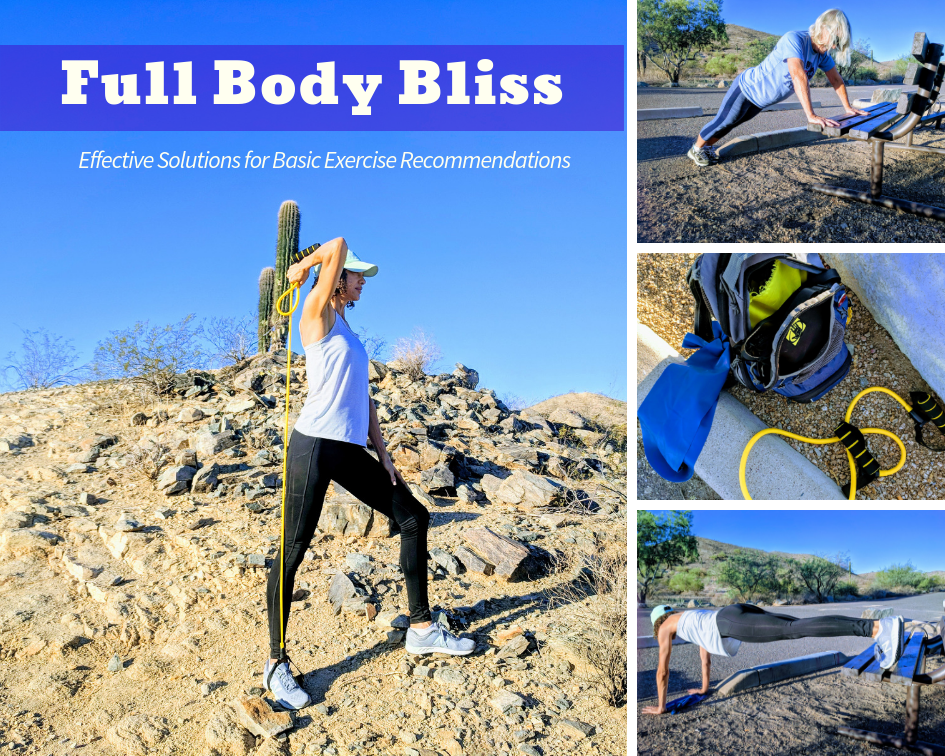 Ever wonder if you're current routine is enough exercise or the right kind of exercise to truly affect your overall health? The World Health Organization, American Heart Association and Center for Disease Control all agree on the topic. Let's take a look at their suggestions to improve our cardiovascular, muscular, and bone health.
At least 30 minutes of moderate-intensity aerobic activity at least 5 days per week (150 min. total)
Or, at least 25 minutes of vigorous-intensity aerobic activity at least 3 days per week (75 min. total)
And Moderate-to high-intensity muscle-strengthening activity at least 2 days per week. 

If your brain is burning trying to figure out how to fit those requirements into your schedule, then chill. Sweat and Sunshine's got some easy-to-implement solutions for you. Exceeding these recommendations and reaping the benefits of good health can be much more feasible and fun than it sounds.
Solution 1: Full Body Routines
There are many ways to train and you should try a variety to identify what is right for you. If you are focused on general fitness and don't have the luxury of spending hours in the gym, you should try full body resistance routines. Full body routines in which all major muscle groups are worked for a day and then rested for a day are a simple way to maximize your training time.
Solution 2: Combining Cardiovascular and Resistance Training
If you get your cardio outside (biking, hiking, running, etc), you likely have a day for cardio and a separate day at the gym for resistance. Combining your cardio and strength training into one routine is another option for maximizing your time. My favorite way to accomplish this is a hill climbing hike with some upper body exercises at the trailhead. While there's no room in my car for a weight bench and dumbbells there are plenty of compact, convenient options for mobile training.
Solution 3: Full Body Bliss Routine
This routine will combine a few body weight and band exercises with a hike for resistance and cardio training in one. Hiking will work your cardiovascular system and strengthen your lower body and core. So will add resistance training at the trailhead to focus on the triceps, biceps, deltoids, pectorals, and we'll double up on core work because it's so good for us. I'll post the routine below. You try it and let me know what you think.
Preparation

Complete this routine 3x a week with one day of rest in between
If you plan to hike at moderate-intensity, select a trail that offers at least 50 minutes of hiking
If you plan to hike at a vigorous-intensity, select a trail that offers at least 25 minutes of hiking
You'll need a resistance band with handles to complete the resistance training


Warm Up x1:

Imaginary jump rope x 30 sec.
Boxer shuffle x30 sec.
Jump squats x30 sec.

Resistance Training x3:

Triceps extensions x15
Bicep curls x15
Pushups x10
Plank series (L side plank 30 sec., R side plank 30 sec., front plank 30 sec.)

Cardio Training (Hike):

50 minutes at a moderate-intensity (50%-70% of your max effort)
25 minutes at vigorous-intensity (70%-85% of your max effort)

Stretching at Trailhead:

Triceps Stretch x30 sec.
Bicep and Chest Stretch x30 sec.
Forward Fold x30 sec.
Quad Stretch x30 sec.
Core Stretch x30 sec.
Have questions? Would you like to have an expert to take you through this routine? Reach out at [email protected] to schedule a session. I'd love to workout with you!