This month I shared Sunrise in the Sonoran Desert with 15 guests from all over the country. We hit the trails early to witness the magic of morning in the desert. For an hour and a half we ditched the digital noise and escaped to the natural world to watch the sun spread its warmth over the valley. Here are a few of our stories and some of the lessons nature shared with us.
Start Early
When we start early, we have time; time to truly see, listen, and enjoy. My guests from Minnesota started early and left the kids at the Air BNB for a little girl's morning out. Not only were we in awe of the sunrise from deep in Beverly Canyon, we enjoyed a whole desert adventure wrapped up in a single morning. We climbed the ridgeline for a challenge then cruized the canyon looking for purple sage. We scrambled up a rock wall to pose for photos and sat with quails and roadrunners as they grazed on the hill.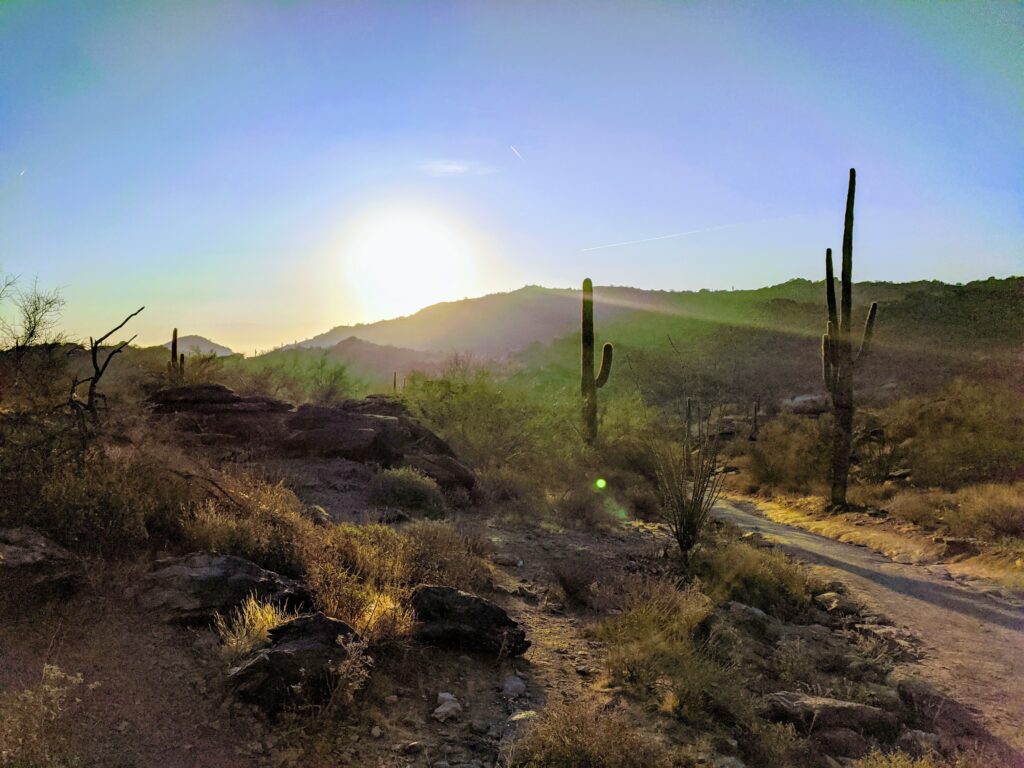 Find a High Point
South Mountain provides tons of interconnected trails, so we always have the option of a light, moderate, or intense hiking route. When Julie, from Michigan, chose the intense route, a wide smile grew across my face. Not only was I looking forward to the high-intensity intervals we were about to enjoy, I was excited about the views we would encounter on this route.
Get Comfortable
Julie and I climbed to our highest point so quickly that we had several moments of darkness before the main event began. While we waited for the sun to come over the Superstition Wilderness in the east we made friends with a local who was filming the sunrise. As bright beams of sunlight poured over Flat Iron some portions of the valley were lit up while others we're sitting in tall shadows. We chatted about how special the mountain was to us. We took in deep breaths of awe and exhaled peace. Julie and I recognized that we weren't just visitors; we were part of nature and this was where we were supposed to be.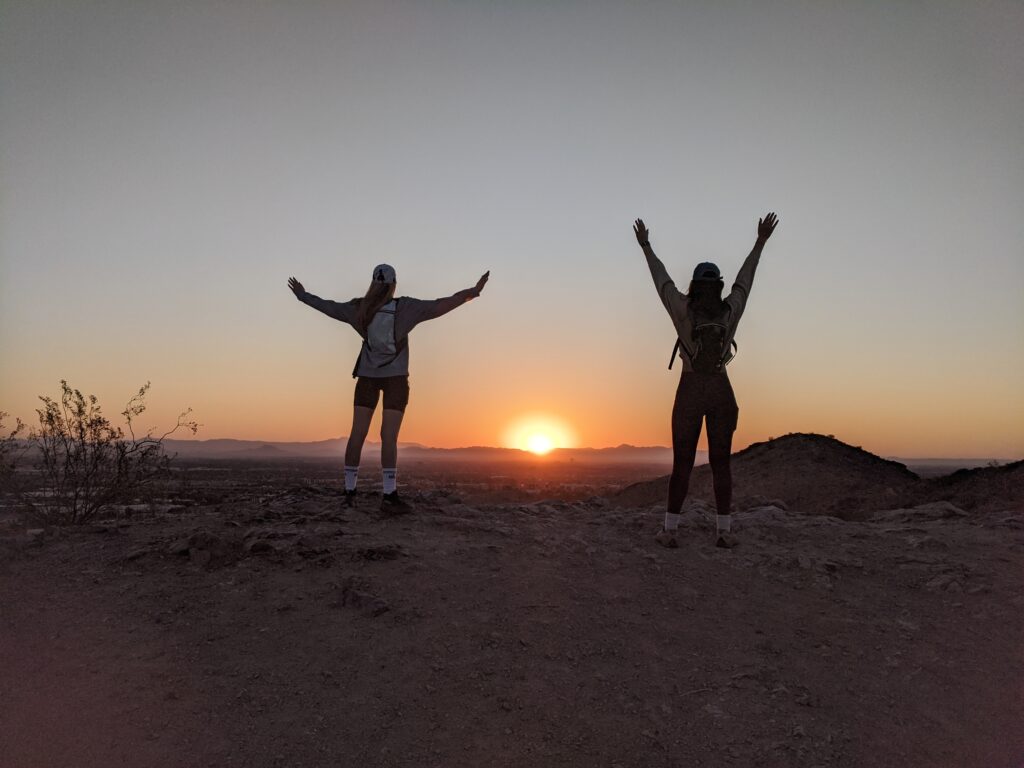 Be Observant
Catching the sunrise isn't just about that magic moment when the sun peaks over into your vision. It's also about witnessing the mountain coming to life. There are so many magical moments. Take it from my guests from New Jersey, who took every opportunity to play in the sun; you can't help but feel strong and powerful when you've conquered the trail and the sun is at your back. When you've endured the most dramatic winter in recent history, it makes time in the sun all the more sweet of a reward.
Have you ever caught a Sonoran Desert sunrise? Well, here's your chance. Join me and enjoy the magic of morning in the desert.