I was about 27 the first time I attempted to eat healthy. I'd worked full-time and went to school full-time for four years. The office job I had wasn't doing me any favors either, in terms of stress and unhealthy eating habits. Not being able to comfortably wear a belly showing shirt one Saturday night moved me from the contemplation stage of my motivation to the action stage. I decided right then I was going to start eating healthy.
On Monday I brought a homemade chicken lettuce wrap for lunch and felt I was off to a good start. Unfortunately that's where my healthy eating efforts ended. When you think about it, it makes sense that they were so short lived. The reality was I had no idea what it meant to eat healthy and had no plan beyond adding some lettuce to my lunch. I went from the contemplation stage to the action stage, completely skipping over the preparation stage; where I should have done my research and made a plan.
Years later, at age 43, I've become a pro at pursuing a healthy lifestyle and just try and shut me up when it comes to good nutrition. In 2011 I finally did my research and made a plan. I learned what eating healthy meant according to many professionals and organizations. Then I decided to focus on whole food that delivered essential nutrients. I adopted healthy habits to change my diet, lost 50 lbs, and improved my overall health. While I've continued to learn and make changes to my diet, I've maintained my healthy body ever since. Now I'm here to help you get fit, eat well, and feel good.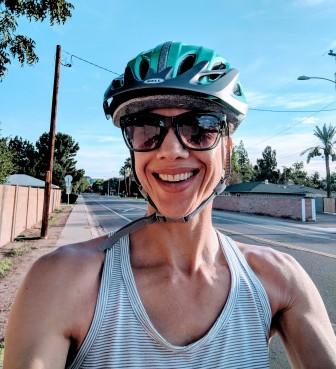 If you are on a mission to start eating healthy, let's work together to define what healthy eating means to you. Join me for a Health Coaching Session – First, let's paint a picture of your ideal healthy lifestyle. Next, let's choose a habit or two that won't support that lifestyle. From there we'll examine and challenge thinking patterns that may be the foundation for those habits. We'll learn new information to keep us motivated and we'll build confidence with lots of opportunities for progress and wins. We'll take an organized approach to changing behavior, making monumental goals into bite-sized successes.